Consciously Curated Celebrations
Full-service wedding & event production company
Where sustainability meets elevated Design

Based in the San Francisco Bay Area, serving clients globally
Curating Creative, Sustainable, Inclusive, & Effortlessly Unique Celebrations Curating Creative, Sustainable, Inclusive, & Effortlessly Unique Celebrations Curating Creative, Sustainable, Inclusive, & Effortlessly Unique Celebrations Curating Creative, Sustainable, Inclusive, & Effortlessly Unique Celebrations Curating Creative, Sustainable, Inclusive, & Effortlessly Unique Celebrations Curating Creative, Sustainable, Inclusive, & Effortlessly Unique Celebrations Curating Creative, Sustainable, Inclusive, & Effortlessly Unique Celebrations Curating Creative, Sustainable, Inclusive, & Effortlessly Unique Celebrations Curating Creative, Sustainable, Inclusive, & Effortlessly Unique Celebrations Curating Creative, Sustainable, Inclusive, & Effortlessly Unique Celebrations Curating Creative, Sustainable, Inclusive, & Effortlessly Unique Celebrations Curating Creative, Sustainable, Inclusive, & Effortlessly Unique Celebrations Curating Creative, Sustainable, Inclusive, & Effortlessly Unique Celebrations
At the Heart of What We Do
There's wedding planning that can feel stressful, overwhelming or over-the-top. And then there's wedding planning that chooses a more easeful route – one that follows your pace, whether you're designing an intimate boutique wedding or a large-scale event. Imagine: walking into your reception with a design that feels like you, inspired by nature (with a dash of maximalism) – all with sustainable materials. Food that's farm-fresh and locally sourced. A talented vendor and a wait staff that's compensated fairly.
We believe that designing around who you are as a couple is just as important as being aware of the environmental impact. At Brannan Events & Design, we weave one-of-a-kind, personal and magical events together with the belief that it's possible to create an unforgettable celebration that leaves nothing and no one behind.
"She was with us every step of the way, kept us organized and even keeled.
We cannot say enough amazing things about Elise. We hosted our wedding in a space that had never been used as an event venue and not only did Elise bring our vision to life — it was better than we had even imagined it. She was with us every step of the way, kept us organized and even keeled. We would recommend her to anyone and in the meantime will be dreaming up other parties we can throw, just to have a reason to work with her again.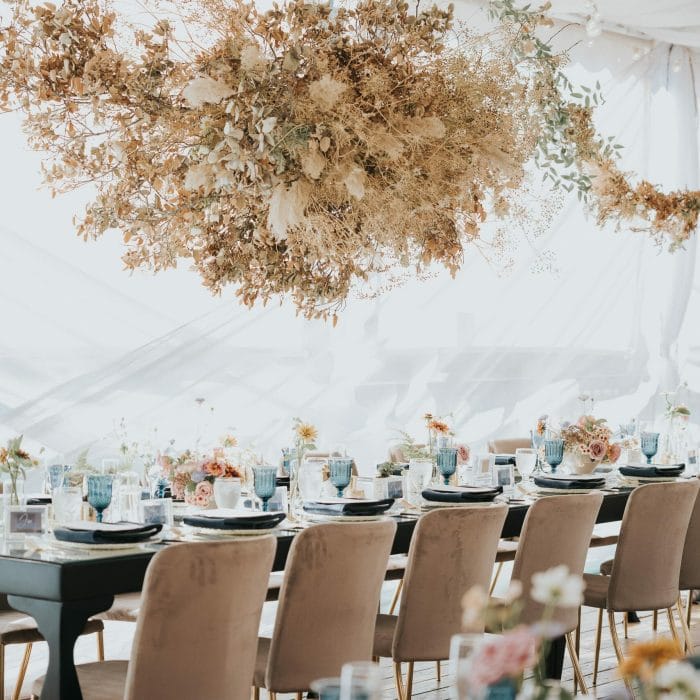 Doing business a different way
We're a full-service wedding planning, design & execution company that's conscious of our impact. We proudly serve both intimate boutique weddings and large-scale elaborate celebrations. Always moving at a pace that feels comfortable for our clients, we design our services around your specific needs to bring your greatest vision to life.
Hello! My name is Elise (she/her) and I founded Brannan Events & Design in 2015 with a mission to help create beautiful, unique and memorable celebrations that directly reflect your vision and personality.
As an environmental and social justice advocate, I believe it's part of my responsibility as an event professional to do everything I can to be conscious, inclusive, and sustainable when it comes to producing an event. I want you to enjoy your celebration that's as beautiful and personal as it is caring and planet-friendly. At Brannan Events & Design, we believe that every wedding can be as unique and special as it is inclusive and conscious of the world around us.
Elise is such a down to earth and calming presence that any bride needs by her side. The entire day was magic. We wouldn't have been able to have our wedding without her and I couldn't recommend her enough!
Elise is incredibly creative and has wonderful ideas. Weddings are complicated and a lot of work and having Elise helps so so so much. Could have honestly not done it without her.
Thanks to Elise, I was able to actually relax and enjoy the day. She took care of everything with grace and I could not be happier. Best decision I made! If you hire her, she will take such good care of you and all your guests. You will not regret it!
I hired Elise and her team to do my last-minute large Indian engagement party at Filoli and I am so incredibly lucky to have worked with her. The event turned out even better than I had imagined and it is all due to Elise.
Elise is an incredibly empathetic person and really took the time to get to know us and help me work through the changes both logistically and emotionally.
She has so much knowledge, experience and gave us access to a full range of vendors, not only that, Elise was able to hone in and paint that vision into 3D for us. Her input was invaluable!
Ready to co-create an effortlessly curated celebration?
Design a dream wedding that feels like you and feel dang good about it.
Ready to collaborate with us?