Meet Brannan Events & Design
A love for the planet & people that makes for spectacular events
Be Creative   Be Unique   Be Inclusive   Be Sustainable   Be Creative   Be Unique   Be Inclusive   Be Sustainable   Be Creative   Be Unique   Be Inclusive   Be Sustainable   Be Creative   Be Unique   Be Inclusive   Be Sustainable   Be Creative   Be Unique   Be Inclusive   Be Sustainable   Be Creative   Be Unique   Be Inclusive   Be Sustainable   Be Creative   Be Unique   Be Inclusive   Be Sustainable   Be Creative   Be Unique   Be Inclusive   Be Sustainable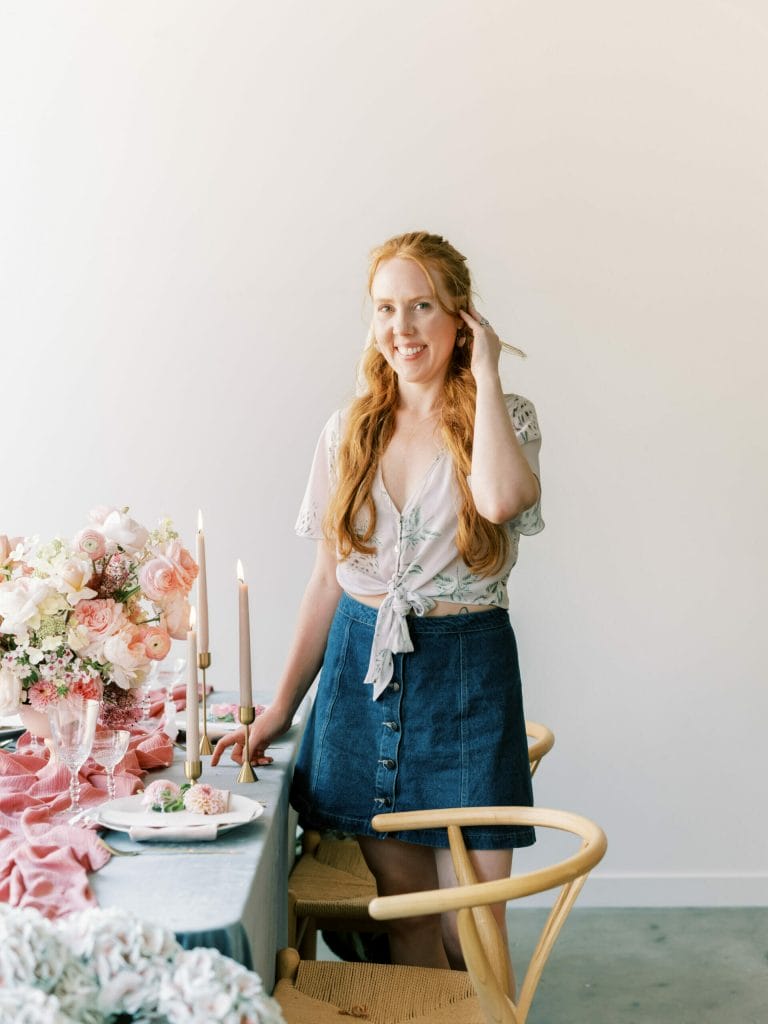 Making events mindful & memorable since 2015
Hello! My name is Elise (she/her) and I founded Brannan Events & Design in 2015 with a mission to help create beautiful, unique and memorable celebrations that directly reflect your vision and personality.
As an environmental and social justice advocate, I believe it's part of my responsibility as an event professional to do everything I can to be conscious, inclusive, and sustainable when it comes to producing an event. I want you to enjoy your celebration that's as beautiful and personal as it is caring and planet-friendly. At Brannan Events & Design, we believe that every wedding can be as unique and special as it is inclusive and conscious of the world around us.
Brannan Events & Design would be nothing without our hardworking and dedicated team of event professionals! They bring creativity, passion, hard work, and love to every event they help us produce.
Photographed here is (left to right) Michael Brannan, Elise, Jasmine Cisneros, Sarah Schuyler, and Maria Perchurina. 
"Elise is absolutely incredible to work with and she manages to make even the most large-scale intricate processes seem easy.
I hired Elise and her team to do my last-minute large Indian engagement party at Filoli and I am so incredibly lucky to have worked with her. I only started planning the event a couple of months beforehand and even though so many vendors were already booked for that day Elise managed to put together an amazing team of florists, caterers, decor, musicians, etc. The event turned out even better than I had imagined and it is all due to Elise. Elise is absolutely incredible to work with and she manages to make even the most large-scale intricate processes seem easy.
It All Started at
a Young Age
Working with animals, becoming a Girl Scout, and volunteering all helped me to develop a love for nature, people and animals (a huge shout-out to my mom because her love of the natural world certainly inspired me).
I was a youth volunteer for non profits nearly all of my childhood and early adult hood. I planned large-scale events and fell in love.
I decided to weave together my love for the planet, people and planning events into a sustainability-focused wedding and event planning & production company.
Our goal at Brannan Events & Design is to help provide the tools to our clients need so they can learn about ethical and low-waste options while giving them experienced guidance to co-create a beautiful, custom celebration with no stress. We believe every wedding and event can be creative, sustainable, inclusive and unique, and that we can be aware of our environmental impact while doing so.
Ready to meet the team & Create A Custom Celebration?
Design a wedding that feels like you while keeping the planet in mind.
Ready to collaborate with us?